The answer harks back to a favour granted by one friend to another.
While Maori first named the region Tamaki Makaurau (a place desired by many), New Zealand's first Governor, William Hobson renamed the colonial city, Auckland in 1840, out of gratitude to his esteemed friend George Eden the Lord of Auckland (pictured). George had helped to revive Hobson's flagging naval career.
At the tender age of 10, Hobson was enlisted in the Royal Navy and rose to the rank of lieutenant by the age of 22, coinciding with the end of the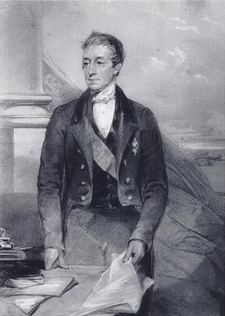 Napoleonic Wars in 1815. Hobson was then posted to the West Indies where he reached the rank of Captain, but was overlooked for subsequent promotions despite his ambition. Until Lord Auckland, the Governor General of India at the time, intervened and gave Hobson command of the HMS Rattlesnake and a new mission to scope out New Zealand. The mission's goal was no walk in the park. Hobson was instructed to gauge the Maori position on a formal sovereignty agreement between the Crown and the country's first people.
It was this mission and Hobson's subsequent report which set him up for his next command. To deliver a Treaty to New Zealand on behalf of Queen Victoria and gain the wholesale agreement of Maori Chiefs to English governance. With the goal achieved in February 1840, Hobson then formally established both the colony and the new government.
But Hobson never forgot his lucky break and who scratched his back. Following successful negotiations with the local tribe, Ngati Whatua, Waitamata Harbour was declared the hub of the new capital so a name was hastily required for the settlement. Hobson not only named the city after his patron in September 1840 but bestowed Lord Auckland's family name, Eden, to the soaring cone that graces the city's skyline, Maungawhau-Mt Eden. And of course, at a later date, Eden Park, home of the mighty All Blacks was another famous landmark named after the career diplomat George Eden, Lord of Auckland.
Lord Auckland died in 1849, following what was described as a fit. He never set foot in his namesake Auckland city or married so the earldom became extinct on his death. The title of Auckland however remains an enduring link to New Zealand's colonial past and a pact made between two intrepid mates.