6 of Auckland's Best Rooftop Bars
When you think of Auckland attractions, rooftop bars might not be top of mind but this cosmopolitan city has come of age. Discover a stylish selection of hidden and locally-loved viewing decks from which to take in Auckland at night, with this handy guide to Auckland's best rooftop bars.
The Churchill - Queen St
The discrete player on the block, The Churchill is sitting pretty as Auckland's highest rooftop bar atop the Four Points By Sheraton.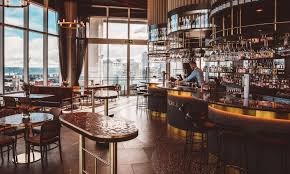 On arrival, you're presented with stunning 180-degree harbour views and a killer gin menu of some +170 brands from around the world. The food is great too, offering a variety of tasters and shared plates to impress like smoked Halloumi sliders and the 'can't go-past' curly fries. Eat, drink and make merry all the while gazing down on Auckland's Queen Street and scenic seaside beauty.
The Parasol & Swing Company - Auckland Viaduct
Boasting the best sunset views in the bustling Viaduct, park yourself on Parasol's sunny deck for a refreshing vino or cocktail and a spot of people watching. The tasty menu boasts burgers, tacos and salads and their legendary jalapeño poppers.
Dr Rudi's Rooftop Brewing Co - Auckland Viaduct
Next door to Parasol, this place is party central when the winning boat comes in. Dr Rudi's Rooftop Brewing Co and celebrating the America's cup go hand-in-hand. It's one of the most iconic rooftop bars in New Zealand and injects a whole lot of energy into the downtown Viaduct. Hop on the escalator to Dr Rudi's and you'll soon find yourself drinking beer brewed on-site and chowing down on metre-long pizzas. When you tire of the waterfront view, take aim down the bar's indoor bowling lanes or launch yourself onto the dance floor enjoying live DJs on the weekend.
HI-SO - Customs St
Style, hipster and swank combine at Hi-So on the 16th floor of the SO/Auckland hotel. Not only do gorgeous panoramic views of Auckland harbour, Rangitoto and the North Shore await, you'll also find an epic drinks menu. This inner-city gem is considered the place to be seen if you're out to impress and one of Auckland's best cocktail bars.
La Zeppa - Victoria St
Get your dose of vitamin D while gazing upon the beautiful Victoria Park in a warm and inviting atmosphere. An industrial NYC design is transported to the City of Auckland with the masterful Sky Tower soaring above. Unwind with live music, Mediterranean tapas and cocktail creations at one of Auckland's most well-known rooftop bars.
Rooftop At QT - Viaduct Harbour Rd
With an open kitchen, a swanky bar and breathtaking views of Auckland's harbour, this is the new insta-worthy spot to be seen. Enjoy mezze snacks from Esther's Mediterranean-inspired menu six floors below, together with espresso martinis and other killer cocktails. Take a detour on the way up and check out the stunning artwork displayed throughout the floors of the stylish QT Hotel.
Work up a thirst on our Hello Auckland walking tour and add a rooftop bar experience to your 'what to do Auckland' list. Check out too our guide to Auckland's best restaurants so every meal is a delight during your stay or for wine lovers, our guide to the best New Zealand wines. We show where the locals go on our top-rated Auckland walking tours so walk with us to find out more.
All rights reserved @auckywalky 2022
Image credit: Hi-So courtesy of Urban List