Best Maori Food in Auckland? Here's where!
International visitors often ask us where they can try Maori food in Auckland. When visitors or manuhiri arrive in New Zealand, the biggest thing missing on restaurant menus is Maori-inspired kai. Up to now it's been a tricky question, because outside of Matariki, where select restaurants adapt their menus to honor the Maori new year, the choices are limited.
Maori cuisine, according to one leading chef, isn't renowned for its rich flavours. It was traditionally about sustenance and survival, high in protein and carbohydrates for energy. So a hunter-gatherer diet of native birds like wood-pigeon (keruru), wild pig, fish, kumara, taro and vitamin-rich puha. Not exactly the Pacific-rim flavours we enjoy today.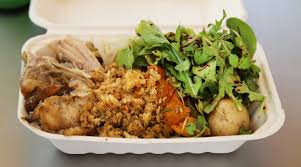 If visitors are Rotorua-bound, they'll typically include a cultural experience en route which may or may not include hangi-style food, a process of slow-cooking food in shallow earth pits. In Auckland the food truck scene has delivered two specialty Maori food-kai options which we like very much!
Puha and Pakeha
This innovative food truck popular at Auckland festivals has now opened a permanent eatery in Grey Lynn and blends native Maori food with contemporary flavours from around the world. Think hangi-cooked pulled pork and cabbage with spice rub and mayo. Or tua tua fritters with kina chilli chive mayo on the side. This is modern Maori fusion street food where each dish on the menu follows co-owners Jarrod and Belinda's focus of taking elements of old school Maori kai and adding a modern flavorsome twist.
Hangi Master Food Truck
Inspired to bring the traditional method of Hangi cooking back to main stream New Zealand, owner Rewi Spraggon has been immersed in food service most of his life from childhood to the world's greatest kitchens .
Hangi tuturu is a seven hour cooking process where heated rocks are placed in a shallow pit with manuka timber. The food is then buried in the earth to cook. Pork, Chicken, Potato, Kumara, Pumpkin, Cabbage, Stuffing and Watercress salad are the key items on the menu. The manuka timber gives the food an earthy, smokey flavour.
Some of the rocks Rewi uses to lay and cook Hangi at his West Auckland home have been in his family for generations and fed thousands of people.The Hangi Master food truck not only serves up individual portions of hangi tuturu at markets and festivals, but also Hangi pies, burgers and savouries.
Within the central city, Hangi Master Rewi Spraggon now operates Auckland's first in-ground Hangi shop The Maori Kitchen. This is open every day on Auckland's Queens Wharf with Hangi pits on site so you can expeirence this delicious 1000 year-old tradition.
Giapo's Paroa Parai
New Zealand's best ice cream flavours served in traditional Maori fried bread, known as paroa. Giapo has created a masterpeice with this alternative to the waffle cone. The trick is to eat it quickly before the dreamy, creamy ice cream melts in the warm, light dough.
We love sharing the best places to eat New Zealand food on our Hello Auckland city walking tour. With our small-group focus, it's the best to start your visit.